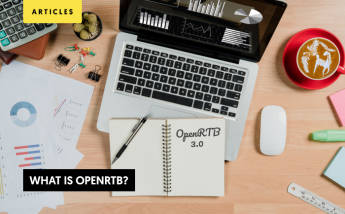 What is OpenRTB & How Does It Work?
What is OpenRTB (open Real-time-bidding)? If you've been searching this all over the web, well, look no further! We'll uncover all there is to know about OpenRTB and that's right! You've just landed in the right spot!
First, let's take a step back and see what  Real-time Bidding (RTB) truly is.
RTB is mainly a way of transacting media that allows an individual ad impression to be put up for bid in real-time.
This is done through a programmatic on-the-spot auction, which is similar to how financial markets operate, and RTB permits for Addressable Advertising which is the ability to serve ads to consumers directly based on their demographic, psychographic, or behavioral attributes.
Would you like to discover all about it? Check our other article which covered all about what RTB is and how it works!
The Real-Time Bidding (RTB) Project, formerly known as the OpenRTB Consortium, assembled technology leaders from both the Supply and Demand sides since 2010 to develop a new API specification for companies that are interested in an open protocol for the automated trading of digital media across a range of platforms, devices, and advertising solutions!
A statistic from eMarketer that just can't be ignored is that a programmatic ad spend is predicted to account for almost two-thirds of digital advertising in the US in 2017 – to the tune of over $27 billion.
Check here below!
This is the reason why almost all RTB-capable platforms have signed on to use the OpenRTB protocol!
Its efficiency, along with its advantages for both advertisers (quick access to competitively priced ad space) and publishers (greater yield on inventory combined with data monetization possibilities), have pushed RTB and programmatic to new heights.
It's not hard to see where the popularity of the OpenRTB protocol has come from.
Let's delve deeper and learn all you need to know about OpenRTB through the following:
OpenRTB
Who benefits from OpenRTB?
OpenRTB & Brands
Why Real-Time Bidding Capability Is Essential
Benefits of Implementing the OpenRTB Protocol
OpenRTB Conclusions
OpenRTB
To understand OpenRTB, let's quickly overview Real-time bidding (RTB).
RTB is a programmatic process through which DSPs and SSPs buy and sell advertising inventory.
In fact, RTB, DSPs bid on ad space that is supplied by ad exchanges or SSPs, which are platforms that access multiple ad exchanges and the winning ad is given to the highest bidder, being loaded nearly instantly on a user's device.
Because the process happens so quickly, RTB makes it so that the bidding can happen on a singular per-impression basis based on anonymized data about each impression and when a user comes across part of a page or app where an ad is to be served, a request goes out from the SSP through an ad exchange.
DSPs are connected to the ad exchange which is used by advertisers to respond to these bid requests based on the perceived valuation of that inventory.
The valuation is based on factors such as where they appear on a page or app and the target demographic advertisers want to reach and the auctioned ad space only then, go to the advertiser that has the highest bid and the ad is served within milliseconds.
And OpenRTB?
The mission of the OpenRTB project is to spur greater growth in the Real-Time Bidding (RTB) marketplace by providing open industry standards for communication between buyers of advertising and sellers of publisher inventory.
There are several aspects to these standards including but not limited to the actual real-time bidding protocol, information taxonomies, offline configuration synchronization, and more.
These protocol standards aim to simplify the connection between suppliers of publisher inventory (i.e., exchanges, networks working with publishers, and sell-side platforms) and competitive buyers of that inventory (bidders, demand-side platforms, or networks working with advertisers).
The overall goal of OpenRTB is to create a "lingua franca" for communicating between buyers and sellers.
The intent is not to regulate exactly how each business operates. As a project, they aim to make integration between parties easier, so that innovation can happen at a deeper-level at each of the businesses in the ecosystem.
Who Benefits From OpenRTB?
The OpenRTB project was not formed by one single company, but rather as a consortium of supply- and demand-side companies interested in creating (in their words) "a lingua franca between buyers and sellers" to help them communicate and operate better.
In particular, that meant establishing object models and specifications for, among other things, the following:
Bid requests and responses
Ad formats
Publisher and placement types
Geolocation, device, and other data definitions
The latest version, released for public comment in November 2016, also supports:
Header bidding
Billing and loss notification
Out-stream video
The result is a protocol that can truly benefit both sides of the equation.
OpenRTB & Brands
A unified "language" to facilitate real-time bidding obviously makes life easier for advertisers. They can easily tap into all inventory sources that support RTB without worrying about being able to integrate their platform with their supply-side tools.
Thanks to OpenRTB, a brand's DSP, for example, can support several different SSPs and add new ones if necessary. The result is that they have way more opportunities to reach their target audience.
Agencies
The same can be said for ad agencies that want to offer their clients real-time bidding opportunities. In this instance, there is even more need for "universality" as agencies may be working with a wide range of brands that need access to worldwide inventory.
AdTech/MarTech Vendors
Finally, vendors of AdTech and MarTech solutions who want to incorporate RTB capabilities into their tools will find that adopting the standards of the OpenRTB project can make their offering much more attractive. Whether their clients already have a DSP or DMP in place or want to adopt one, they will want to be sure that the tool they are spending money on isn't going to be useless because it doesn't work with other platforms.
Why Real-Time Bidding Capability is Essential
Taking a step back, it is also important not only to understand the numbers behind the growth of programmatic advertising and RTB but why exactly it is so useful and why an initiative like OpenRTB is so essential.
Advertisers (and publishers too) have become attached to real-time bidding for media-buying and -selling for several reasons:
Data-driven: Instead of hit-and-miss campaigns and rough insights into performance, RTB allows brands to continually optimize their campaigns based on all kinds of data, from ad placement, time of day, page content, visitor data, etc. Now that brands are getting used to having and using this data, they have come to expect it from their AdTech tools.
Scalability: One great advantage of real-time bidding is the ability to quickly and easily tap into global inventory – in real-time. This means targeting wide swaths of a market across several countries or individual, high-value customers with ease – all without having to have a direct relationship with the media sellers and their platforms.
Personalization: One primary result of RTB's scalability and data-driven operations is being able to personalize ads down to the most granular level. Now, when a visitor arrives on a site, he or she can be served distinctly personal ads that have a much greater appeal. Advertisers love this because of the higher conversion rate potential and publishers love it because they can maximize the value of a single impression based on data and the ability to connect brands with the visitor in real-time.
There are other advantages of RTB but these serve to highlight the main benefits advertisers and publishers derive from it. And as they become more and more used to them, they will not be able to do without RTB.
Benefits of Implementing the OpenRTB Protocol
Of course, advertising technology is a competitive industry. No one could expect that one single platform could take over and offer a fully integrated system in and of itself.
And yet with so many different tools available – from DSPs to DMPs to ad networks and ad servers – there needed to be a way to coordinate in such a fast-changing space.
This was the original impetus for the OpenRTB project in the first place – and it remains valid today.
With a common "language" of standardized communication, AdTech platforms can be more confident about scalability and their ability to integrate with a host of other players on the market.
More specifically, a universal protocol can help SSP & DSP platforms and ad exchanges by:
Saving maintenance costs: No need for SSPs and DSPs to support different integrations with multiple exchanges.
Reducing time to market: Ability to implement multiple integrations without added development costs for each additional integration. Some customization may be necessary but the core implementation will be the same thanks to a unified protocol.
Making it possible to switch platforms without substantial upfront integration costs: Flexibility when choosing a new partner/platform to work with.
And finally – since the OpenRTB standard has already been widely adopted with other tools, making it the basis of a new tool makes it infinitely more attractive (and usable) for potential customers.
OpenRTB Conclusions
As we've just overviewed, OpenRTB is Making it possible to switch platforms without substantial upfront integration costs: Flexibility when choosing a new partner/platform to work with and it's part of the RTB, which is the technology that propelled programmatic advertising forward, making advertising more efficient for both advertisers and publishers!
What are you waiting for, still thinking?
Accelerate your Conversions, Increase your Revenue
with lemonads
---
You would like