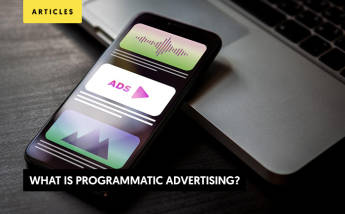 Programmatic Advertising: Make It Part Of Your Advertising Strategy!
Programmatic advertising today can really make a difference to a company, helping it to be more competitive in its sector, but how, why, and mostly where does programmatic advertising come in?
Capturing the attention of consumers, in today's digital system, is not that easy, and creating a website with all the managing social media channels, is no longer enough.
The timely planning of an effective data-driven digital marketing strategy with an omnichannel address is all that really can make the difference to a company and make it more competitive in its sector!
Programmatic Advertising, helps your business become more competitive and forgetting to struggle with having to use separate platforms were to advertise on different channels and having to find time selecting the best places where to put your advertisements in the digital world! Which we all know is definitely a hard task to do.
So let's delve deeper through the following topics we'll cover here in our article:
What is Programmatic advertising?
6 commonly used programmatic advertising channels/formats;
How Does Programmatic Advertising Work?
Why Use Programmatic Advertising?
5 Advantages of Programmatic Advertising;
Programmatic Advertising Conclusions.
What is Programmatic Advertising?
What is Programmatic advertising? It is simply a way to automatically buy and optimize digital campaigns rather than buying directly from the publisher, in any formats and channels that can be accessed programmatically, thanks to programmatic platforms, making it more effective and efficient than ever!
Programmatic Advertising may not necessarily involve advertisers and publishers working on a one-on-one basis to serve ads. In fact, ad delivery depends on the type of programmatic deal you choose.
Different types of programmatic deals dictate the rules when delivering ads on publishers' websites.
Let's look at the key programmatic deals:
Real-Time Bidding (RTB)
RTB is a way of buying and selling ads through real-time auctions, meaning transactions are made in the timeframe the page is loading.
Here's how it happens: when a user opens an internet page that hosts an advertising space, the information about the user that is in front of the screen and on the page that is loading arrive at an ad exchange that will automatically assign the space to the advertiser willing to pay the highest price. At this point, your campaign will be uploaded to the page.
Not all Programmatic are in RTB. Sometimes publishers sell their inventory of advertising space in advance and at a fixed price, therefore without auction. In this case, we speak of Programmatic Direct or Programmatic Guaranteed.
Although RTB is easy to set up and optimize, it lacks transparency from the advertiser's perspective. Advertisers know the general category of publishers, but they don't know the exact publisher websites on which their ads will appear.
Private Marketplace (PMP)
The Private Marketplace, or PMP, is a "closed" sales platform, in which publishers (generally large-scale) make their advertising space available only to a selected number of advertisers. Like a store where you can only enter by invitation.
The sale works by auction and the starting price of the individual spaces is generally higher than those of an open market. This is because Private Marketplaces are normally used by publishers with digital properties (sites, apps) with a high audience, equipped with pools of high-quality advertising space for which advertisers are willing to pay more.
Contrary to RTB, the advertiser using a PMP knows which websites their ads are being served on, allowing them to measure the accurate ROI of their ads.
Preferred Deals
In preferred deals, advertisers get to choose the ad inventory at a fixed price even before it is made available on private marketplaces followed by open auctions (type of "open" auction, where any advertiser interested in buying an advertising space can participate, unlike what happens in Pmps. It is similarly referred to as Open Marketplace or Open Market, referring to "open" sales platforms).
Also known as spot buying, the negotiation in preferred deals takes a precise approach as both the parties agree on the modalities, such as pricing, etc. ahead of time. The advertiser is given a sneak peek of the publisher's ad inventory and is not bound to make any purchase.
Programmatic Guaranteed (or Programmatic direct)
Unlike other media, programmatic direct doesn't follow a bidding process. Sellers and buyers negotiate a purchase price with a fixed price and execution date. A system that excludes the auction.
Automated guaranteed is used by advertisers that know precisely where to place their ads and have hefty advertising budgets.
6 commonly used programmatic advertising channels/formats
Display Ads
The term "display ad" usually refers to online visual ads, but in the context of programmatic ads, only the ads placed at the header, footer, or sidebar are considered to display ads.
Advertisers and publishers work with display networks such as Google, Microsoft, or Snapchat to facilitate the buying and selling of ad slots. Publishers generate revenue based on the clicks and impressions data collected by the display network.
Here is an example of a programmatic display ad!
Video Ads
The popularity of programmatic ads continues to grow as video continues to become one of the most preferred consumption tools.
Digital video Ads, in the US alone, are predicted to grow significantly! Ad spending is expected to show an annual growth rate of 4.8%, resulting in a projected market volume of US$12,865m by 2025.
There are three main types of video ads:
In-stream ads: (pre-roll, mid-roll, post-roll), but we'll check that in just a sec!
Out-stream Ads
In-display ads
In-Stream Ads
In-stream ads are ads that appear in the video player itself. For instance, the advertisements that are run before a YouTube video are called in-stream ads.
Here is an example of an in-stream ad!
There are three types of in-stream ads:
Pre-roll: These ads appear before the video begins to play.
Mid-roll: Mid-roll ads run in the middle of the content.
Post-roll: Post-roll ads appear after the video ends.
Out-stream Ads
is a new type of video advertising that automatically reproduces in a large format each time a user navigates in text content (such as an article), even if the publisher does not have its own video content to offer within the site. It is called out-stream because advertising video exists outside of video content, defined in-stream video content, in which advertising is present before (pre-roll), during (mid-roll), or after (post-roll) the publisher's video content".
Here is an example of an out-stream video ad on Forbes
In-display ads
In-display ads aren't displayed in the video player but search results or video recommendations.
See here below to check on an example of an in-display ad!
Social Ads
Social media platforms collect a large amount of data from users to intensify their targeting capabilities. Programmatic social advertisements use this data to decide who will see their ads, the ad format, frequency caps, etc and this information helps advertisers optimize their ad spend.
Social ads are not exclusively restricted to platform ads. Programmatic influencer marketing automates influencer marketing campaigns by identifying the right influencers and getting them on board.
Audio Ads
While popular podcasts still follow the traditional sponsorship model to place ads, programmatic audio can amplify revenue generation efforts.
We can identify three key reasons for the growing adoption of programmatic audio ads:
New and different ways to extend your reach.
Increased engagement with more interaction.
Enhanced targeting with precise targeting. With better results.
Native Ads
Native advertising is the use of paid ads that match the look, feel, and function of the media format in which they appear.
Simply put, native advertising is paid content. Articles, infographics, videos, you name it – if a content producer can make it, corporations can buy it and publishing platforms can promote it.
According to research by IPG & Sharethrough on native ads, consumers looked at native ads 53% more often than display ads.
Unlike programmatic display ads that appear at the header, footer, or sidebar, programmatic native ads can appear in other locations on a webpage or app.
Here are some of the native ad formats:
In-Feed Units
In-article Ads
Paid Search Units
Recommendation Widgets
Promoted Listings
Sponsored Content
Rewarded Video Ads
In-Ad (IAB Standard) with Native Element Units
Digital Out-of-Home (DOOH)
Digital out-of-home is the digital and analytically superior evolution of traditional out-of-home advertising. The traditional DOOH sales consisted of advertisers getting in touch with the network and agreeing on audience targeting, pricing, screen selection, etc., manually.
Although programmatic DOOH may appear a bit odd initially, it follows the same media buying processes as RTB and programmatic direct.
How Does Programmatic Advertising Work
Let's check quickly, shall we?
Connects publishers – those who have websites with ad space to sell – and advertisers – those who want to buy that ad space to promote their brand. When an advertiser wants to launch a digital campaign to promote their product/service, they contact their programmatic ad agency or trading desk.
Programmatic media buying includes the use of DSPs, SSPs, and DMPs. DSPs, (demand-side platforms) which facilitate the process of buying ad inventory on the open market, provide the ability to reach your target audience due to the integration of DMPs (data management platforms). DMPs collect and analyze a substantial amount of cookie data to then allow the marketer to make more informed decisions of whom their target audience may be.
On the publisher side of things, publishers manage their unsold ad inventory through an SSP (supply-side platform). An SSP reports attention data such as how long a visitor was on a specific site or how many pages were viewed per visit. SSPs will ultimately be in charge of picking the winning bid and will serve the winning banner ad on the publisher's site.
The DSP uses the data that it receives to evaluate the programmatic ad and match it with its data and target parameters. This is used to decide a bidding price for the first impression. Held within the SSP or ad exchange in real-time, the process is often referred to as Real-time Bidding
Although this sounds like a long process, it takes just a few seconds to complete the bidding. After the impression has been sold, it's sent to the publisher's website to be displayed. The process repeats whenever a user lands on the website or refreshes.
Why Use Programmatic Advertising?
Although there may be some concerns, I do believe that programmatic advertising benefits prevail the concerns as programmatic technology is continually working towards identifying and solving some issues to further tune up marketers' campaigns.
We can expect programmatic advertising to continue to grow. In the US, 85% of digital display advertising spending was transacted through programmatic technology in 2020.
According to eMarketer, programmatic spending is forecast to grow to 86.5% of all digital display advertising spend in 2021 despite a downturn due to the pandemic.
Before programmatic advertising, ordering, setting up, and reporting on ads all had to be carried out manually.
Both publishers and advertisers may find themselves struggling with the management of ad space and manually negotiating the sale and purchase of ads is a time-consuming process.
Programmatic digital advertising offers a smarter, faster alternative to manual digital advertising.
Programmatic Advertising Benefits
There are multiple benefits to using a programmatic advertising platform for all your digital advertising efforts. Most important, programmatic advertising helps buyers and sellers make decisions on precise data and removes conjectures. during the buying process.
Let's get into a better explanation if you're not convinced yet.
5 Advantages of Programmatic Advertising
Besides the efficiency brought in by the reduced need for human intervention and AI-driven algorithms, here are five advantages of using programmatic advertising.
Real-time Insights
In traditional advertising, it takes a significant amount of time to get the results of advertising campaigns, and there's no exact method of knowing their accuracy.
Programmatic advertising, on the other hand, gives advertisers real-time information on the performance of their ad campaigns. Advertisers can utilize this campaign data to gather more information about their target audience and campaign.
Enhanced Targeting Capabilities
You can adopt two methodologies to connect with your target audience.
In the first approach, you can combine the first- and third-party data to improve the audience profile and reach out to them with accuracy.
The second approach pertains to contextual advertising. Contextual programmatic advertising derives data from both – the user-profiles and the page content, to deliver ads at the most appropriate place. For instance, you can serve ads of a CRM application to a marketer or salesperson on business publications.
Apart from these strategies, advertisers can use remarketing, geo-targeting, data and IP address targeting, and website or app targeting to adopt a more refined approach towards targeting.
These improved capabilities provide plenty of room to advertisers to personalize their ads.
Greater Transparency
Since advertisers are aware of the ad inventory they are purchasing and the audience they're targeting, they can trace the performance of their ads, see how their budget is being spent, and optimize their campaigns in real-time to get the results they want.
Better Utilization of the Budget
As programmatic advertising provides advertisers with real-time campaign performance, they can invest their budget in ways that will get them the best results.
This efficient investment allows them to spend their campaign budget effectively and yield better ROI.
Tackle Ad Frauds Effectively
It's known that the digital advertising industry is harmed by unethical ad practices. According to research, ad fraud caused an estimated $19 billion in losses to advertisers last year.
That's a lot of money!! The existing privacy regulation (e.g., GDPR) is great for protecting privacy, but it often blocks information sharing and, therefore, visibility. The latter can potentially compromise the safety of the entire system.
Major programmatic ad platforms also constrain ad frauds by blocking fake traffic and pre-rolls ads and offer ad credits in case of fraudulent tactic slips through their system.
Programmatic Advertising Conclusions
As we arrived at our conclusions, Programmatic advertising is a way of being Creative with strategy simply calling it: "advertising'".
We hope this article has armed you with the necessary knowledge to explore this topic and make it a part of your advertising strategy in your everyday business!
Accelerate your Conversions, Increase your Revenue
with lemonads
---
You would like