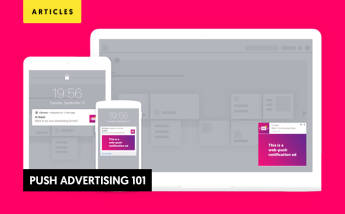 What is Push ads? Push advertising 101
Technology moves fast and mobile technology even more so. We've all experienced push notifications on our phones but what exactly is the difference with push advertising? Can everyone get push ads? How do they end up popping on our phones and computers? How can you make the most of it?
Push ads haven't been around for a long time and they've already taken affiliate marketing to the next level.
This article will be your introduction to push traffic. You will find out what exactly is a push ad and how it works along with the best practice you should be following to ensure success and achieve your goals. They're tricky to implement but once you've found what works for you, it's a great way to make a lot of money.
What is push advertising?
Push ads/push traffic/push notification advertising is essentially 3 different expressions to talk about the same concept. It's a form of ads that are sent directly to the mobile or desktop of your potential and willful customer.
The keyword here is willful. It's worth mentioning because it's rare enough in affiliation marketing to have your prospect actively choosing to receive such communications. It makes it all the more interesting because it gives you a much bigger chance of reaching a highly engageable audience.
Push advertising is a native way to bring ads to users' desktop or mobile devices. It looks like usual push notifications and engages your target customers to visit your website with a simple click.
How it works :
Thanks to a subscription option, publishers enable users visiting their websites to receive notifications. Users usually get a popup on their screen asking them to "Allow notifications"
If they allow push notifications then users are added to the subscription lists.
When collecting new subscriptions, lists are updated instantly and segmented according to the date of subscription. Newer subscriptions are best to use because they're still on the users' minds which makes them more likely to engage.
Those lists become sources to push traffic and serve advertisers according to their targeting preferences.
Thanks to his opt-in, the user receives push ads notifications even when he's not browsing any website.
Technicalities you should know about push traffic
Push ads are commercial, interactive messages delivered to desktop or mobile devices by websites (which make it different from a classic notification delivered by apps).
By clicking the message, users can be redirected to a website, a landing page, or even a microsite generating a conversion.
To receive those ads, users must opt-in first via a small pop-up asking to send them notifications. The number of push ads notifications they get daily is limited and they can opt-out whenever they want to.
Find out which popular browsers support push ads:
It's important to note that push ads aren't supported by Apple on all of their iOS devices.
Here's what push ads look like on different browsers and operating systems.
How do push ads differ from push notifications?
Push ads and push notifications look alike, they can both serve the same purpose  BUT they don't work in the same way.
In order to receive push notifications, users have to have downloaded said application first. Push notifications are directly sent from the app to the user's phone if they have agreed to receive them in the first place. It's a way for the app to connect and inform users about the latest promotion, new functionalities, and such. They are used for marketing purposes on mobile devices only.
Push ads are online ads coming from websites (not apps), they're used to drive traffic on both mobile and desktop. It's one of many ad formats available in the affiliate marketing industry.
Why they work:
Since they are delivered straight on the users' mobile or desktop as quick messages, they feel more personalized and natural. It's an ad format that is engaging for the users, it's like getting a text message but with less fuss, and much more visual.
Push ads are voluntary meaning that one needs to willingly subscribe to receive them. It makes them less intrusive and user-friendly.
Users don't need to be browsing the publisher's website at the said time to receive a push ad, all they need is to be subscribed to be targeted anytime you need them to convert!
They are cost-effective, targeted communications that can boost your traffic and conversion in the blink of an eye if they are well done.
The recipient of the ad can select their preferences to get relevant offers according to their needs, it makes targeting easier, more precise thus more likely to engage the audience and generate a response. If they ever get disinterested all they have to do is unsubscribe which guarantees publishers have a receptive audience (it makes everyone save both time and money).
Push ads usually generate a particularly high Click-through rate which makes it easier to convert. If someone clicks your ad then they're probably interested in what you have to say.
Find the greatest Traffic Source for your needs
Every affiliate needs a source to get some traffic for their push ads. Where does that traffic come from? Website or plugin owners, ad networks, push ad networks, domainers, or webmasters can ask to join a traffic source platform and provide their database for advertisers' to use.
After a verification process to ensure their traffic is good quality and not fraudulent they become push traffic publishers.
Since there are a lot of traffic sources out there, the key to successful push advertising is finding sources that fit your particular needs as an advertiser. You need to match your offer with the right vertical. That's what traffic networks do: they find the best-suited, high-quality traffic sources for your needs. It's hard to navigate alone in the depth of push advertising but there is so much potential for getting in touch with highly engaged users.
How to build effective push ads to convert and make money
In order to be effective push ads must be simple, catchy, and well-targeted. They're made of an image, a title, and a small text, choose all of them carefully following this advice and you should be able to raise interest.
Time to get creative with the ad itself. The image should be bold and eye-catching but not too complicated because of its size. There is no room for telling a story with the image itself so simplicity is key if you don't want to end up with something unreadable.
Keep in mind it should stand out from the user's other daily notifications from apps. Fresh and funny ads that are not what you usually see on your phone will most likely do the trick. In order to find the perfect formula, you can test and adjust them to your customers' liking.
Remember to switch things up once in a while to avoid them being fed up with getting the same message.
Don't be shy and use emojis (not too many though), people are usually very fond of them and they are said to increase CTR approximately 25-40%.
Once you've got your eye-catching image, it's time to write a title and a copy that will make people want to click and buy.
The title is as important as the image. It must be short and sweet, it needs to leave users wanting more. It's usually written in bold and should be enough to convert with no more than 30 characters. Think of it as a CTA to really encourage action from your user.
The same kind of rules applies to the body of the ad. It can be a little longer (up to 75 characters) but the less beating around the bush the better. A few powerful words should be enough to make it exciting for the user.
Now onto targeting
Once you have your chosen traffic source and your creative you should be able to tackle targeting. A good traffic source should provide you with several targeting options.
Try to get yourself in the shoes of your target audience from the start to try and predict their behavior. Knowing your audience is crucial, even the most basic information counts, the more information you have the more targeting you can do to achieve an interesting ROI.
The first thing you should decide is: do I want to run abroad or source-based campaign?
With a broad campaign (also called RON: Run-of-network) you can buy the entire traffic from a chosen location up to your set bid limit.
With a source-based campaign, you decide to focus on sources that are chosen already for you (we recommend you don't go with this option unless you've had the opportunity to complete the initial testing phase beforehand).
According to your needs, you can decide to run a big campaign with a larger target (country location-based push advertising) or choose a targeting with a deeper level of detail (city-based). You can obviously choose to target only desktop or mobile and even which time of day is better to send your push ad according to your target's behavior.
Keep in mind that even though mobile push ads are trending right now it also means that you will encounter a lot of competition. Desktop might just be where your customers are so it's worth testing before making any decision.
If you decide to go with using various target locations you must be prepared with various sets of ads. Users will get less tired if they don't see the exact same ad. They are more likely to engage if they receive a different set more frequently.
Speaking of frequency, you have to decide how often you want your ads to be displayed to a user. Save yourself time and money by researching the best-performing timing for your given location and device beforehand. If you want your ad to remain user-friendly and non-intrusive, try to stay low-key and keep the frequency to a minimum. If not users might get annoyed and unsubscribe.
Challenge your network to provide the best user experience and your ads will be as successful as can be!
How much does it cost to run a push ad campaign?
The push ad cost model is CPC (Cost-Per-Click) based, you can't know ahead exactly how much money it will cost you to run it but you can estimate a budget.
The CPC is defined by a bidding system that depends on the set criteria (GEOs, devices…).
To estimate your spending budget you need to consider the volume, the testing phase, the running time, the average bid prices.
The best move is to test your campaign on a small sample of your chosen source, and improvements then scale it up when you've found the perfect match.
What is Push Ads Conclusion
If you still ask yourself why Affiliate marketers are all jumping on the bandwagon of push advertising here is a shortlist of the benefits:
Ensures High-quality traffic thanks to an opt-in system. They've asked to receive notifications so all you need to do is provide them great ones!
Hundreds of billions of potential users worldwide across a variety of devices.
Higher click-through rates than traditional banner ads.
Push ads get delivered whether or not the user is browsing their phones or the internet. They can read it anytime they choose to, it's less intrusive and longer-lasting.
They are no existing ad blockers for push ads!
Users have to read them (unless they're one of those people who loves a billion notifications sitting on their screen at all times?)
Accelerate your Conversions, Increase your Revenue
with lemonads
---
You would like