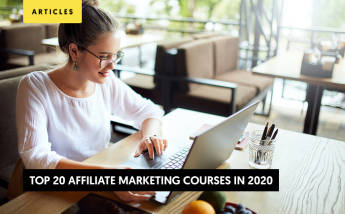 20+ Best Affiliate Marketing Course of 2021
Becoming an affiliate marketer requires creativity, a good work ethic, and above all, constant learning. Understanding all of the elements that can affect your campaigns will allow you to develop a better strategy and ultimately yield higher revenue. That said, there are hundreds of marketing courses out there, so you need to find a good combination of general resources and affiliate-orientated content.
With the above in mind, finding the best and maybe even free affiliate marketing courses can take hours or days and not all marketers have the flexibility to thoroughly research their options. To help you find the best affiliate marketing course, we spent hours scouring the web and put together a list of the top 20 resources available in 2021.
SEO and Google Ads Courses
We've broken down our picks for the best affiliate marketing courses into three categories, which are:
SEO and Google Ads
Social Media
General Marketing
We'll start with SEO and Google Ads because search engines are the best way to reel in a higher number of visitors to your site at a low price. Google is the most popular search engine in the world, so you can take advantage of the platform's reach by learning how to get better organic rankings and get the top positions for your paid ads.
Peter Kent is a digital marketing Guru that started working with online advertising platforms in 1993. If you're not too familiar with SEO and the variants that can affect your ranking, Kent's general course is perfect for you. From keyword research to meta tags and backlinks, you'll get an introduction to common concepts as well as lifetime access to different resources including 8 hours of video, 40+ articles, and more.
Affiliates that have a good grip on basic SEO concepts can go a bit further and try out SEO 2021: Complete SEO Training and SEO for WordPress Websites. In addition to discussing more than 40 factors that affect SEO rankings, the affiliate marketing course also dissects 5 years of research that was conducted using more than 10,000 keywords. And, the course includes 8.5 hours of video resources, 17 articles, and lifetime access to additional elements.
Getting mentioned by a large publication like The Guardian can transform your website from an unknown platform to one of the hottest sites on the web. This SEO-focused marketing course teaches affiliates how to produce content that gets mentioned in leading platforms and how to build more than 200 organic backlinks for your site.  The spoils also include more than 5 hours of videos, 10+ exclusive articles, and downloadable materials.
SEO takes time to produce results, but you can always get traffic from Google by launching a paid ads campaign. That said, developing a campaign on Google Ads can be complex because you need to have an in-depth understanding of the settings you need to toggle. The solution? This ultimate Google Ads guide, which includes 25+ hours of video and 4 comprehensive articles.
Learning how to use Google Ads and developing SEO skills is essential, but you also have to learn to understand the data you collect and make the most of it. Google Analytics Certification: Become Certified & Earn More is perfect for affiliates that want to gain a better understanding of their data and reap their real-life benefits. This affiliate marketing course includes 12 articles, 2 hours of video training, and a practice test to help assess your skills.
Social Media Courses
Social media is another valuable source of traffic, especially if you want to focus on a vertical that benefits from high-quality visual ads.
Facebook Ads are much more affordable than other types of PPC and it can still yield great results. Most affiliates opt to go for organic as well as paid strategies when running a Facebook campaign and this course can give you a superb introduction to everything you need to know. You'll get lifetime access to 10 hours of video, 42 articles, and 30 downloadables.
If you only want to focus on paid Facebook advertising, The Complete Facebook Ads Course – Beginner to Advanced has all the information you need to understand the social media's paid mechanism and launch great campaigns.
2021 has been tough for most industries, but this course was developed to address the unique business challenges that have characterized this year. This comprehensive affiliate course includes lifetime access to almost 50 hours of video and 70 downloadable materials.
It's easy to understand why people love Instagram, but learning how to use it for business purposes isn't always a seamless process. The Instagram Marketing 2021 affiliate marketing course is perfect for marketers that want a basic breakdown of how their Instagram should operate.
This resource is among the best affiliate marketing courses because it provides a complete breakdown of hashtags, live streams, ads, and other advanced features. This affiliate marketing course also includes 23 hours of videos, 18 articles, and more than 160 downloadable elements that you can access throughout the product's lifetime.
General Marketing and Affiliate Courses
Finally, the general marketing and affiliate courses will give you a better understanding of the digital advertising landscape and the role that affiliates play.
This 32-hour course will teach you everything about affiliate marketing. From resources about the basics of creating a sales funnel to understanding SEO and writing attractive newsletters, you'll also get access to 19 articles and 28 downloadables with real-life applications.
If you're on the hunt for a free affiliate marketing course, none better than The Guide to Effective Affiliate Marketing Strategies. This general affiliate course can help you choose the right niche, give you tips on producing great landing pages, and other valuable information in a 2-hour video.
Although this course focuses heavily on social platforms, we've included it in this section because it also explains the role that these networks play in your overall marketing scheme. The affiliate marketing course features 29 articles, 8 hours of video, and 11 downloadable resources.
Learning how to launch retargeting campaigns is a great way to take advantage of the traffic you've already paid for. After completing this 8.5-hour affiliate course, you'll be able to set up, manage, and monitor retargeting campaigns.
This 24-hour course features 34 articles and 4 downloadable resources that will help you transcend from a marketing rookie to a seasoned professional. It includes tips on creating WordPress sites, increasing SEO rankings, and boosting YouTube channel views among other essential affiliate marketing tips.
If you're having a hard time understanding affiliate marketing and the different forms it can take, this course is for you. With 8+ hours of video content, 5 articles, and 36 downloadables, you'll learn about affiliate marketing, how it works, and what you need to create a stellar campaign.
Looking for another free affiliate marketing course? The Affiliate Marketing Side Hustle: A New Entrepreneur's Side course is the perfect place to learn how to distribute affiliate links and get the most from your blog. The best part? It's available at no cost.
Beginners looking for a solid introduction to the world of digital marketing can opt for the Online Marketing Foundations course that's available on Lynda.com. Here, you'll learn about SEO, social media, affiliate, PPC, and other types of marketing to develop a more comprehensive strategy.
Cost: Starting at $35 per Month (Lynda.com Subscription)
Building an affiliate website is the first step towards becoming a successful marketer. With this course, you can hit the ground running, shorten the learning curve, and develop a professional website specifically for affiliate marketing. You'll get lifetime access to 7 hours of video, 2 downloadables, and 3 articles that cover the basics you need to know.
Franklin Hatchett is an extremely successful affiliate who's sharing the strategies he used to achieve his results in a renowned course called Savage Affiliates. It's much more expensive than others on this list, but it's also a more comprehensive course that includes hundreds of hours worth of video training, access to a private inner circle, and one-on-one training depending on the tier you sign up for.
Check out this article on intelligence marketing tools for marketers that might interest you.
Learn More About the Best Affiliate Courses at lemonads
Although it represents a sacrifice, taking the time to complete the best affiliate marketing courses can yield ultra-engaging ads and more profitable campaigns. We hope our list can help you track down the courses you need to unlock your affiliate potential.
To learn more about becoming a successful affiliate, follow our blog or contact lemonads and our team will be glad to help.
Accelerate your Conversions, Increase your Revenue
with lemonads
---
You would like