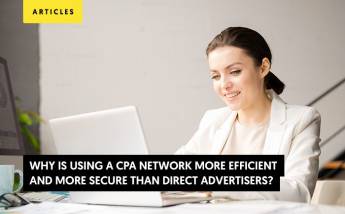 Affiliate network: More efficient than direct advertisers?
CPA Network vs Direct Advertiser - Which one is better?
Having an effective marketing strategy is crucial to the overall success of your business. To that extent, the method growing in popularity for lead generation is affiliate marketing. And one of the key benefits of becoming an advertiser through an affiliate network is the number of opportunities this opens up, alongside the ease of getting started.

But because affiliate marketing is now a very large industry and has become a key source of online income for many thousands of professionals, advertisers often ask themselves a lot of questions : CPA Network vs Direct Advertiser - Which one is better? How are you going to sign up affiliates? And more importantly, are there some real benefits of using an affiliate network over direct affiliate marketing?
How does an affiliate network work?
For an affiliate network to work perfectly, both advertisers and publishers must first sign up to the network. Once both are accepted onto the network, advertisers can add their programs and publishers have instant access to a huge range of promotional material - and, of course, the pre-mentioned programs. Publishers can apply to be accepted onto any program. As soon as they have been accepted as an affiliate partner with the advertiser, they have therefore an unlimited access to a choice of promotional texts or creatives that can be used across a variety of platforms: social media, websites, emails, etc.
The publisher is assigned with its own ID upon joining the network, which is used to track the sales for each program advertised on the affiliate network. The publisher places the affiliate links across promotional material; when potential customers click on the link, they are then taken to the advertiser's website to complete their purchase. The ID is tracked by the affiliate network so that the sale can be attributed to the publisher. The publishers and advertisers can access their dashboard at any time and review all aspects of the programme within the affiliate network's platform.
In general affiliate networks provide a communication channel that is based on trust and allows for partnerships and relationships to be built. This is paramount to the speed in which sales and return on investment can be made, which gives affiliate marketing a key USP and sets the industry aside from many other marketing channels.
Why use CPA networks when you are an advertiser?
Well, advertisers can of course directly approach or seek publishers to promote their products. But it is generally more straightforward and secure to use an affiliate network. A CPA network deals with many factors involved in running an affiliate program, leaving you more time to run the other aspects of your business. There's no doubt that CPA networks provide an efficient marketplace for advertisers to seek approved publishers to promote their products. They also offer a streamlined business model for managing campaigns easily and without stress. Using a global CPA network is comparable to outsourcing work to freelancers or contractors, allowing you to tap into an experienced network of skilled professionals without having to employ a team in house. Having a dedicated relationship manager will give you someone to run to every time you have a problem.
Quality of traffic.  We all know that it is first and foremost a matter of business reputation. A CPA Network makes sure you're playing with a credible traffic source that's been explored by someone that has a clean reputation in the market. The more real traffic a network has, the more quality traffic it can brag about, and the higher it ranks in the minds and hearts of affiliates. Moreover, affiliate networks are able to offer service and technology in order to support their advertisers and drive their affiliate programs forward through strategic partnerships, dedicated account management and regular consultation and collaboration to suit the needs of our advertisers. Using insights from across the network, you can have insights and recommendations on key sectors as well as shopping behaviour and trends which can be used to shape strategy and promotional activity across a range of digital campaigns and industries. We will come to that a little bit later.

Quantity of traffic. With more and more people looking to start or grow their own business, affiliate programs are more and more in demand. This has given rise to a large pool of affiliates to work with. And thus, it lead to better qualified leads and higher sales. It will only help you more than if you would be working only with one affiliate directly. Keep in mind that the more the brand is promoted, the more well-known it will become. Also, a part of publishers are influencers as well whose audience trust them and, by default, they have confidence in any products they promote.  

Experts. In the world of affiliate marketing, the struggle of gaining the right audience and adopting the right strategy can be tricky. This leads to frustration and disappointment and many beginners bailout and lose out on the opportunity of a potential source of income.This is where affiliate networks are so valuable : they offer the expertise of top affiliate marketers and influencers, that can give you the right marketing strategies to promote your products. More than that, those experts are very attentive to what's happening on the market. In 2019, many affiliates have been forced to adopt an out-of-the-box approach and explore untapped markets, where advertisers are in low supply.  At the same time, we''e seen huge scale tech developments in programmatic algorithms and Big Data, with fraud prevention ad tech and data analysis at the front of many strategic advertising developments. It is always valuable to have the help of some of affiliate industry's finest to help decipher what all this means for performance marketers and the affiliate industry in general.

Anti-fraud solutions from CPA Networks. With the constantly growing revenues, digital advertising attracts not only startups, small and big businesses, but also high number of fraudsters. Ad fraud detection tools help networks and advertisers to uncover, analyze and block invalid traffic in real time. Advanced fraud detection tools can leverage machine learning, big data and AI to identify fraud patterns and analyze affiliate traffic for a variety of rules and signals to prevent fraudulent activity and save ad budgets. At present, most performance marketing platforms and many CPA networks have their own proprietary anti-fraud tools built in to their system, for the advertisers/merchants to use. These features can help you keep fraudsters away from your ad campaigns. Their effort then enables affiliate marketing for less ad fraud and friction, while maximizing ROI for CPA media buys.
Of course, affiliate networks have a large number of vendors. Of course, in a network, people often search for e-commerce vendors based on numerical criteria, e.g., commission percentage, average sale price, conversion, and the like. But quite simply, if you are trying out affiliate marketing for the first time or if you are already an expert, we recommend that you go with a network. Because the CPA Network will lead to an increased selection of affiliates to generate always better quality traffic to advertise it, thus impacting final conversions (sales, leads, etc.)

Human being and innovation are at the heart of each of our decisions. lemonads is adopting a responsible behavior in each step and services provided. This starts with a thorough selection process of all publishers.
We also develop several tools to guarantee high-quality conversions and maximum protection against fraud. That's why 95% of our advertiser partners recommend lemonads.

Read on : Ad Network vs Affiliate Network: What is the Difference?
Accelerate your Conversions, Increase your Revenue
with lemonads
---
You would like