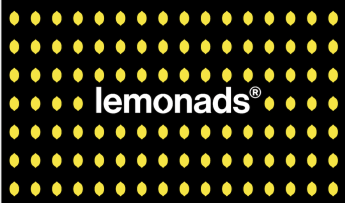 Why is lemonads called lemonads?
A zest of freshness and full of savoir-faire in the spicy industry of affiliate marketing. By changing its name to lemonads, the Swiss Group, specialized in monetization and digital performance is taking on a brand new dimension in its ambition to become the future reference of affiliate marketing.
At the end of 2019, the company has formally presented lemonads to the team and partners. A change related to a strong ambition of doubling its revenue in 2020 and to do the same every next year. Indeed, with over 12 years' worldwide experience, lemonads is based on strong reputation in audience monetization and affiliate marketing. The team, known for their expertise and their proximity to their customers, are full of determination to become the most powerful network in the market.
A unique identity
If you know how to read between the lines, you know that lemonads is the sweet mix of "lemon" and "ads". From the sourness to the freshness of lemon, the company made this switch not just to play on words. It translates its will of becoming the NextGen Hub of the Affiliate Marketing Industry. The website handles billions of conversions every year for forward-thinking businesses around the world. The new name of the company needed to be catchy, easily understandable and… fresh. What's a better refreshment than a good lemonade ?
Energy is what best characterizes lemonads.
"Dynamic and energetic image of the lemon was obvious for us. We wanted to imagine our future under this view. Today, we are proud to present a modern, fresh, and unique identity that embodies the personality of the team and the will of everyone to take up all the challenges", evokes Gregory Mugnier, Head of Marketing of lemonads.
The Future Standard of Affiliate Marketing
Through its new name, lemonads cultivates strong and unique mentality, without ever forgetting their main mission: to optimize the performance of their customers.
"We want to be agile and in continuous movement to best fit with the needs and expectations of our clients and to support them in their success. It is possible with the development of new tools guaranteeing high-quality conversions, the development of anti-fraud solution, but also with constant optimization of the platform". Christophe Chazelle, CEO.
Their ambition is considerable, but with the determination they show off and the passion they share, it seems that nothing can stop them. By the way, isn't it that whatever food you eat, lemon will always spice your dish up!

Accelerate your Conversions, Increase your Revenue
with lemonads
---
You would like