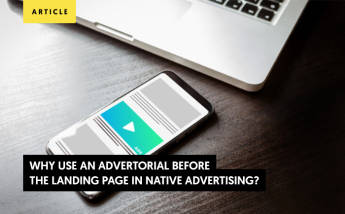 Why Use an Advertorial Before the Landing Page in Native Advertising Campaigns?
As an affiliate marketer, there are many techniques you can implement to give your campaign a performance boost. These may be limited by the offer you're working with, but many time-tested approaches are suitable in almost every instance.
Take advertorials, a common tactic used for decades in traditional marketing. This technique is also suitable for online channels and, as a matter of fact, it can exponentially improve the results you get if you implement them properly.
Advertorials tend to work best when they feel more like an informational piece. Not only this but placing your advertorial in the right place in terms of context can also improve the results you get.
When combined with native advertising, advertorials have the ability to inform customers about your product and highlight the benefits it offers while gently ushering them to your landing page, which in turn improves the performance of your ads.
With the above in mind, combining advertorials and native ads takes a deep understanding of both approaches. In this article, we'll discuss the reasons why advertorials can improve the performance of your native landing pages and give you tips on implementing this dynamic duo into your campaign.
What is an Advertorial?
In simple terms, an advertorial is the combination of a piece of advertisement and an editorial article. In traditional scenarios, advertorials are a type of paid ad, but they are presented in the form of an informational article that highlights a particular product or service. When combined with native ads, advertorials become a part of your conversion flow that educates interested users and filters out users who are not likely to convert.
To consumers, advertorials can become valuable sources of information that help them find the best solutions to their problems, so you need to craft quality articles that deliver value to your audience. At the same time, the credibility of an advertorial hangs partly on the reputation of the publishing platform, so you need to produce quality content for your entire platform consistently.
Advertorials can cover a wide variety of topics and vary in length, although they are usually long-form articles. And, this type of article also has unique features that can inspire consumers to transition from prospects to leads and eventually sales.

Why are Advertorials Ideal for Native Ads Campaigns?
There is no set blueprint to design the perfect advertorial. These can actually be customized depending on the results you want to achieve, the topic being covered, or the target audience. With this in mind, your advertorial content needs to be relevant to your audience and your product to keep them in the right mindset.
Additionally, advertorials are a great tool if you want to introduce a new product or change your branding. Today, new products and service models are developed regularly. So an advertorial can help you explain your solution to an audience that may be interested, but it's unfamiliar with how it works.
In addition to the above, some of the reasons why advertorials work with native ads include:
Users Don't Feel Like It's an Ad
The reason why advertorials and native advertising are a match made in heaven is that they take a similar approach. Similar to advertorials, consumers don't usually identify native ads as advertising, allowing the message to sink in without stirring negative emotions.
If combined properly, the advertorials and native advertising combo can help you break down the features of your product or service without making users feel like they're being sold something. However, you need to implement suggestive language without sounding like a sales pitch and be as objective as possible, even if it means discussing some of the downsides of your product.
Allows You to Highlight the Products Being Promoted
The most important benefit of an advertorial is that it gives you all the space you need to discuss your product and highlight the benefits it brings for your target audience. This is the reason why many advertorials center around a specific problem or challenge that affects your target audience. You can go into great detail when examining the issue at hand and then explain how your products or services can provide the best solution.
Increases Engagement
The most underappreciated effect of an advertorial is the fact that it raises engagement. When you send a user to the offer landing page too quickly, there's a very low chance that person will actually become a conversion. The main reason is that consumers in this scenario have little to no knowledge about the product, so they don't understand the benefits it can offer. Through a quality advertorial piece, you can motivate users and increase your chances of registering more conversions.
How to Create the Best Advertorials for Your Native Campaigns
Understanding the importance of an advertorial is the easy part. Now, it's time to learn how to create the best content for your advertorials and native advertising campaign.
Content quality content is the most difficult part of an advertorial for many reasons. For starters, you need a deep understanding of the users you're targeting. Plus, you also have to know how to use the product you're promoting and establish a quality publishing platform that aligns with your content if you haven't done so already.
That said, with some hard work and a little patience, you'll be able to develop the skills that allow you to combine advertorials and native advertising.
Study Your Target Audience
The first and arguably most important step is to study and understand your target audience. The main goal of any campaign is to get conversions, but the only way to create engaging content is to know what topics your readers are interested in.
There are many resources at your disposal to help you analyze your audience's behavioral patterns. But, before looking at any external tools, take the time to assess the data you've collected from your previous native campaigns. What headlines bagged the most conversions? Which topics attracted your audience's attention? You need to answer these questions and know what drives your audience if you want to create a successful advertorial.
Analyze Successful Content on Your Platform
In addition to data from old campaigns, also analyze the most popular articles on your publishing site. You should make note of the topics, format, tone, and other elements on successful posts and keep them in mind when creating your advertorials.
Remember, even if the goal is to get conversions, advertorials need to be informative and deliver value, so look at the different elements that attract your audience's attention and use them to develop captivating content.
Determine the Ideal Topic and Length
Once you have a good grip on your audience and the content that's performing well on your site, you can start thinking about the topic you're going to discuss in your advertorial.
Start by brainstorming a series of ideas and conduct research to rule out unpopular topics. You can assess popularity using tools like Google Trends, and make sure to conduct keyword research to ensure that your topics are actively being searched for. Once you've defined a title, look at the most popular articles and determine how long your advertorial needs to be.
Write and Develop Creative Content
Finally, it's time to start creating your content. Create an outline that follows a logical order. In most cases, you should start with a problem, discuss the setbacks it causes, and propose different solutions, one of which should be the product being promoted.
If you can't decide on a title, leave it until the very end. Once the advertorial is written, you'll be able to create an accurate title that reflects the content of your piece.
During the writing process, remember to:
Take a Creative Angle
Chances are you're trying to solve a common problem, so it's safe to assume consumers have read a variety of different articles. The key to inspiring action is to take a creative angle that allows you to stand out from the competition.
Find a Good Balance Between a Promotional and Informational Tone
If you want your native ads to be successful, you need to avoid conventional promotional language at all costs. The same applies to advertorials. When writing your long-form article, try to find a balance in terms of the language you use and implement CTAs or similar tactics to encourage users to take action.
Stay True to Your Style
As we mentioned before, an advertorial is only as credible as the platform that publishes it. But, your editorial should also follow the same style to avoid standing out in the wrong way. Instead of trying anything new or spending hours developing a different tone, simply stick to the same style as your usual content and avoid mixing things up.
Prompt Readers with Calls-to-Action and Similar Elements
At the end of your advertorial, you should encourage users to view the landing page and complete the conversion.
Instead of including a promotional statement at the end, you can use a call-to-action (CTA) that prompts readers to take action without altering their perception of your content. Or, better yet, you can include a series of CTAs strategically placed throughout your advertorial. Just remember to conduct split testing to determine which variables produce the best results.
Learn More About the Best Strategies for Native Ads
Advertorials may be among the oldest tactics in the marketer's toolkit, but this form of advertising offers a unique set of benefits that allow you to improve the performance of your native landing pages.
Furthermore, advertorials and native advertising make the perfect combination because both attempt to transmit a promotional message without producing negative emotions in the target audience. This notwithstanding, you need to understand your target audience and the different elements that will affect the way they view your advertorial piece.
We hope that the tips above help you combine advertorials with native ads and improve the performance of your landing pages. To pick up more tips, stay tuned to our blog or get in touch with us today and we'll be glad to help.
Accelerate your Conversions, Increase your Revenue
with lemonads
---
You would like