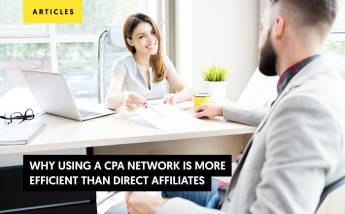 Why using a CPA network is more efficient than direct affiliates
As an affiliate marketer, you're incredibly familiar with the importance of customer acquisition, and how effective affiliate programs can be to get new customers in the door - they have a unique opportunity that's often overlooked by the people who run them : the ability to increase customer loyalty, personalization, and conversions through exclusive offers for specific customer segments.

As an affiliate, you have a lot of options for running offers and making money. The most common thinking is to work directly with an advertiser, especially because it will help you generate more advantageous commissions.
But let's keep it real : the best and most efficient way to find new offers and get started is to join a CPA Network. Why? Because not only do networks have a great deal of offers/merchants to choose from, but they offer support, creative services and can pay more on most offers if you can provide volume. Most importantly, you can run different offers at the same time, then receive one check at the end of the week/month.
An affiliate network will assign you an affiliate manager who can help you with your campaigns. You get access to hundreds and thousands of offers across many different verticals. The second you want to ditch an offer, you simply stop running traffic to it. There's no pressure to run any specific offer.
We talked about how to choose your CPA Network when you are a publisher. Now, are you looking for more advantages of going through a CPA Network for an affiliate?
The possibility of finding exclusive offers
Looking for the best offers for the audience is the major part of an affiliate's job. Unfortunately, it's not as simple as looking for "high paying affiliate offers" on the Internet. But don't get us wrong: with some clear sense of what you are doing, you can find promising offers with just a few clicks. Affiliate programs have a unique opportunity that's often overlooked by the people who run them: The ability to increase customer loyalty, personalization, and conversions through exclusive offers for specific customer segments. To get the best affiliate offers, you need to identify a marketing niche, sign-up for various affiliate networks that host offers in that niche and track the performance of your offers. Then, the best offers are right around the corner.
Keep also in mind that exclusive offers allow you to test different offers on a small group of people where the publisher already understands their demographics. If you're hesitant about creating a discount, or offering a discount to a certain demographic, one of the great things about an exclusive offer through your affiliate program is the ability to test different offers on an already interested audience.
Sharing your favorite products with your audience is a fun and powerful way of generating income. By promoting your tried-and-true items to your community members, you can more effectively be the helpful resource they count on, while supporting your brand with sales commissions. It's a win all around.
The ease of possible partnerships with international brands better known
A shared commitment to drive results is the only way you will unlock the full potential of your freshly minted marketing stacks. If done correctly, it also represents a transformational opportunity for publishers to earn higher revenue through the creation of greater value from the ecosystem.
Whilst investigating the best way to take a brand internationally, many brands are discovering that different networks have varying strengths in the market, and that no single network or partner is a global leader in each market.
With this in mind, it can be more productive to partner with an international affiliate marketing agency or consultancy that works independently with local partners and networks in the markets you wish to expand to and manages the affiliate platform. The agency acts as a single point of contact, managing the relationships and campaigns with the required partners in each market. These affiliate networks are experts in their local market, and can offer insights and support for all levels of requests and queries.  
Speed of payment
When it comes to personal/business finances, timing has a role. Above all, you need to ensure cash flow at various junctures. Advertisers that make you wait long periods to cash out give serious roadblocks. Hence, you don't want to be stuck in that limbo.
Overall, an increase of security and speed of payment  will simply allow affiliates to quickly reinvest their commissions and earn more money  - despite a lower margin rate for direct marketing, where payment terms are long.
As such, lemonads just opened the weekly payment - under this scheme, advertisers are suppose to pay publishers within a week of receipt of the invoice. For publishers this option allows to get revenue they've generated quicker and plan their financial pipeline more efficiently.
Also, when the time comes to pick a payment method and get that hard-earn cash, most affiliates feel like they can't rely on any payment method to receive that much deserved revenue. The most common payment systems available on different networks are well-known (PayPal, Paxum, FirstChoice Pay…) and the most secure ones. Pick affiliate networks that provide a broad choice of payment methods. The more payment options you find in an affiliate network, the more confident you'll feel, because you know you'll be able to withdraw your revenue quickly/safely.
And sometimes better commissions
Against all odds, it happens that networks have better commissions from advertisers than direct affiliates. Why? Simply because they generate a lot of traffic and so they have a better force of persuasion than an affiliate face to an advertiser.
The assistance
Support with affiliate and media buying experts allowing affiliates to find the offers that best meet their audience in terms of geos, intent, vertical, etc. Working with a network can also offer additional benefits, such as a constant access to industry experts - outside of the network's account management team. It will only help you expand your knowledge and learn from other affiliate marketing experts and entrepreneurs by easily reaching out to different authority figures to get their best tips and advice on what's working for them in the world of affiliate marketing and lead generation. Working with the network also gives affiliates access to the work of support teams, such as Global Strategy, Technical Services and Business Intelligence.
Affiliate networks bridge the gap between supply and demand. As a consequence, by using a CPA Network, the affiliate will have the opportunity of recovering his commissions faster than with a direct advertiser, which will allow him to reinvest his money more quickly and thus to optimize his earnings.
Accelerate your Conversions, Increase your Revenue
with lemonads
---
You would like