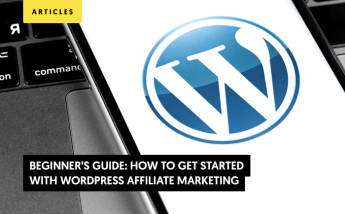 Beginner's Guide: How to Get Started With WordPress Affiliate Marketing
Affiliate success stories are extremely common for both marketers and advertisers, but there's a lot of work that goes into creating a successful website. You need to understand the affiliate ecosystem, find a vertical you're knowledgeable about that's also profitable, and choose the best platform to build your site. There are dozens of different options to build your website, but WordPress (WP) is by far the most popular and arguably the most dynamic alternative out there.
Like in any other platform, developing a WordPress affiliate marketing website takes a significant amount of planning and effort. However, WP sites can be easily customized and are compatible with countless plugins, while also being inherently SEO-friendly. At lemonads, we work with some of the top affiliate WordPress site owners out there, so our team is familiar with all the implications of creating a WP page for marketing.
In this article, we'll briefly discuss the definition of affiliate marketing and the benefits of WordPress. Additionally, we'll also go over the general steps you need to follow to set up a successful WordPress affiliate marketing site.
First Things First: Defining Affiliate Marketing
Before going over the steps to establish a WP site, let's go over the definition of affiliate marketing.
Affiliate marketing is a promotion technique that allows businesses (advertisers) to promote their products and services through independent partnerships. Advertisers partner with affiliates, who are independent marketers that use a variety of channels to promote third-party products and services in exchange for a commission.
In this ecosystem, affiliates are WordPress site owners that develop content, market the advertiser's goods, and seek to generate revenue from the traffic produced. But, for this to occur, the WP page needs to be attractive, have the right architecture, and feature a conversion-driven design.
Why Should You Opt for Affiliate Marketing?
Developing content for affiliate marketing in WordPress is one of the best ways to generate revenue online. The reason for this is that affiliate marketing is one of the most popular promotion strategies out there and it's employed in almost all industries.
Not only this, but affiliate marketing is a great option because:
It's Ad Blocker-Proof
If you have experience generating revenue through a website or have researched this for the past few years, you probably know about the impact that ad blockers have had on online advertising.
In simple terms, ad blockers are pieces of software that suppress or otherwise stop ads from being displayed to users. And, while these are still a challenge that the industry has to maneuver around, affiliate marketing is flexible enough to be considered "adblocker" proof. Affiliates can opt for native ads and similar formats that help them monetize traffic without triggering blockers or compromising the user experience.
It's Relatively Straightforward
No, affiliate marketing is not "easy." It requires extensive research, planning, testing, and optimizing. That said, if you conduct enough research and take an organized approach, affiliate marketing is not hard to understand.
The whole idea behind affiliate marketing is that users trust independent content more than advertiser-generated materials. As long as you generate valuable content, understand the mechanics behind how users convert, figure out when you need to optimize and make it all work together, you should be able to establish a successful WP site.
It Provides Great Results
The affiliate marketing industry has managed to grow through the COVID global health crisis, proving to be one of the most effective forms of marketing out there. Affiliate marketing spending in the US alone is set to reach a stunning 8.2 billion by 2022, an increase of almost 3 billion since 2017.
The reason why affiliate marketing has grown is that it works. It's estimated that more than 80% of all companies have some form of affiliate marketing program in place, and the best part is that these businesses are spread across different industries and locations.
Is WordPress the Best Choice for Affiliates?
For many new and aspiring affiliates, simplicity is key. Simplicity in website construction, management, and optimization. However, simplicity becomes a problem when it compromises performance.
Enter WordPress.
WordPress is the closest thing that affiliates have to a perfect content management system (CMS) and website building platform. In simple terms, WordPress allows affiliates to create all types of websites -- from simple blogs to powerful eCommerce platforms -- in a simple way.
Let's take a look at the reasons why developing a WordPress affiliate marketing site is a great idea.
WordPress Doesn't Cost Money
There are two ways to develop a WordPress site, either through www.wordpress.com or www.wordpress.org. The difference is that the .org version is the self-hosted version, which means that you have way more control over your pages and overall content.
The best part is that both forms of WordPress are free, so you don't have to pay for the CMS regardless of which one you choose.
It's SEO-Friendly
One of the biggest challenges when using Wix or similar website builders is that they don't produce SEO-friendly pages. WordPress, on the other hand, was designed to be inherently compatible with search engine optimization. This means that you'll have an easier time getting high rankings for your pages and driving free engaged traffic from search engines.
Affiliates Can Build All Types of Websites
As we mentioned previously, affiliates can build all types of websites in WordPress. It doesn't matter if you want to include interactive elements, videos, unique colors, customized forms, or any other feature. As long as you have the right template, know your way around HTML, or work with a knowledgeable coder, the sky's the limit in terms of web design elements.
How to Set Up an Affiliate Business Through a WordPress Website
Now that we understand the basics of affiliate marketing and why WordPress is a great option, let's go over the steps to establish a successful WP site. Remember, every affiliate marketer is a unique individual. So, even though we'll go over some general steps, you need to evaluate your particular situation and figure out what actions you should include (or remove).
That said, here are some general steps that almost all affiliates must follow to set up a successful WP site.
1. Pick a Solid Topic or Focus for Your Site
We touched on this previously, but it's a crucial step to develop a platform that generates results.
You need to choose a solid topic or focus for your affiliate site. Instead of choosing an industry based solely on your personal preferences or profitability, try to find a balance by selecting a vertical you know about and that's also popular enough to produce results.
For example, launching a site about the history of football means you'll attract users who are just searching for information. But, if you create a website about local football leagues and how to join them, the users you attract will be more willing to engage and leave their email addresses.
2. Understand the Target Audience
If this is the first time you're establishing an affiliate site, you need to study the audience and understand what elements these users find appealing.
In case you already have experience with affiliate sites, you may feel like you already know your audience extremely well -- and you most likely do! But, you should still research the target audience as this can unveil recent trends that shape the content you produce.
3. Develop an Attractive Site
Now, it's time to start building your website. Keep in mind that the design elements will be defined by your target audience. In other words, you should look at the research you conducted and figure out the right font, color scheme, website layout, and other variables you need to keep in mind.
WordPress sites are simple enough to manage by yourself, but you can also work with a developer to expedite any tasks you need to complete. That said, we advise that you work closely with your dev team to ensure that your site is both personable and functional.
4. Find the Best Affiliate Programs
An affiliate program is an agreement that contains all the details about the partnership between advertisers and affiliates.
The best and fastest way to track down affiliate programs is to work with a reliable affiliate network. That said, you need to ensure that the provider you choose verifies each advertiser and provides superb features. At lemonads, our goal is to help our partners monetize their WP traffic in a safe environment, so contact us today if you want to learn more about finding the best programs.
5. Implement the Appropriate Tools
Many affiliate tools help you manage and streamline necessary actions. These include trackers, heatmaps, speed optimizers, affiliate link organizers, and many more. Remember, there is no silver-bullet solution, so you need to think about the elements you need to improve and research the different tools you have available.
6. Develop and Publish Quality Content that Drives Traffic
Now that your site and tools are in place, you can build a content strategy, set a schedule, and start creating your materials.
Your content format can vary depending on the industry and audience you're targeting, but it can include video, blog posts, infographics, and much more.
Just remember to always deliver value to make sure that your users remain on your site once they arrive.
7. Optimize Your Website
Just because your content is live doesn't mean that you're done! Building a successful affiliate WP site requires regular optimizations, which are data-based adjustments that help produce better results.
You need to collect enough information from your site before you start optimizing. But, as long as you have enough statistically significant information, you should be able to discern the patterns, make changes, and see which ones produce the best results.
Ready to Get Started? Find the Best Affiliate Programs at lemonads
Getting started with WordPress affiliate marketing may seem like a daunting task. That said, WP sites are extremely easy to build once you have enough practice and they can produce stellar results in terms of SEO rankings and overall performance.
Developing a reliable WP site is a great way to drive traffic and generate revenue, but you also need to find the right monetization partner. At lemonads, we specialize in helping affiliates find the most profitable and suitable affiliate programs from the top advertisers in their industries. To learn more, contact us today and we'll be glad to help.
Accelerate your Conversions, Increase your Revenue
with lemonads
---
You would like