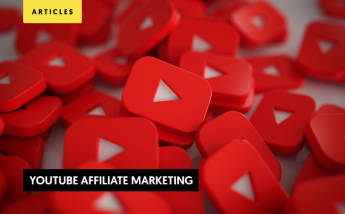 Youtube Affiliate Marketing - Guide 2021
There's a chance you're already working with affiliate marketing and you are exploring new ways to increase your passive income, or you are completely new to this and you want to know-how are all those YouTubers making a living. Right? In any case, this article is made to show you what affiliate marketing is (in short) and how can affiliate marketing be used on Youtube.
We propose beginning from the ground up. We will very quickly introduce you to affiliate marketing and then get to Youtube.
Let's go!
What is Affiliate Marketing?
Affiliate marketing in simple terms, it's a form of performance advertising where companies work with independent marketers in order to generate web traffic, leads, or sales. Advertisers are only required to pay affiliates when they generate conversions, so this form of marketing is extremely low-risk for the companies advertising their products.
There are a few different types of affiliate marketing structures, but the most popular type includes four main stakeholders, which are the advertiser, the publisher/affiliate, the target audience, and the affiliate network.
The advertiser is the company that wants to sell a product or service.
The Publisher or affiliate is the online marketer that is interested in promoting these products or services.
The target audience is no other than the consumer that will buy these products or services
The network: Last but not least is the place where advertisers and publishers find their perfect match.
What publishers do, is create content that is directed to a very specific niche. These publishers only affiliate to programs that relate to their niche or target audience. For example, in our graphic, Mary is a parenting blogger who wouldn't be interested in heavy building machinery and instead, s/he would love to find affiliate programs that have amazing and unique products s/he can pitch to parents searching on ways to make their parenting easier.
She affiliates with the "Grand Store of baby gadgets" program and they provide her with an affiliate link. She adds this affiliate link to her article on the best baby bottles for babies with reflux problems. When a person clicks on the button to learn more about the bottle, they land on the advertiser's page. Once the customer buys the bottle, Mary will be accredited with this sale and will be paid according to the conditions established in the affiliate program.
Every time one of these parents click on the affiliate links and convert, Mary will get an affiliate commission.
What is Youtube Affiliate Marketing?
You might suspect, that in this order of ideas, YouTube Affiliate Marketing is the process of making money by creating videos that lead viewers to buy recommended products through affiliate links placed in either the videos themselves (via annotations) or below in the video descriptions.
The difference between mary's blog is that the links are not contained in the text. As youtube is a video content channel, the customer would have to go and read the description.
How to become a Youtube Affiliate Marketer
Choose your niche and audience
Choose something you're really passionate about and love learning and sharing about.
When you are passionate, the chances you create quality content increase.
A niche is a specific group or segment within a market that companies and affiliate marketers can target. Because niches are much narrower than the broader audience, the content, and techniques used need to be adapted specifically for each segment. But, this is also the reason why niche marketing campaigns have the potential to be extremely profitable.
The niche you choose will affect every single aspect of your campaign, from your content creation process right down to your ads' profitability. Not only this but selecting a niche that you like is also crucial because it's the difference between loving what you do and experiencing a lack of motivation.
Think if you want a seasonal niche or an evergreen niche.
Some of the more profitable niches for affiliate marketing on youtube are product or service reviews, tutorials, DIY videos... You can learn more about the best niches in our best niches for affiliate marketing articles.
Choose your Affiliate Programs
There are many affiliate programs out there.
The first step we suggest is to use search engines to have a better idea of what's out there. Type on the Google: affiliate program + your niche and you will get listings of affiliate programs within your niche with a complete description of the affiliate marketing program, the pros and cons, the commission rates, and more info.
You can also use Google to see if your favorite brands gave an affiliate program. Simply type on the browser: affiliate program + that brand you love. Another way is to see the competitor brands to those brands you are a fan of.
You can also see what other youtube affiliate marketers within your niche are promoting. This can give you ideas on what people are more likely to watch.
You can read our dedicated article on how to choose your affiliate programs.
Affiliate networks are a great affiliate program finder, obviously. To find the best affiliate offers in the market is an affiliate network's day-to-day job. By joining an affiliate network like lemonads® for example, you will have access to cool marketing tools for youtube creators and in general social media affiliate marketers.
Setting up your Youtube Channel
First (If you haven't) create a Youtube channel.
Almost everyone has a Gmail account but if you don't, create one and use it to log in to Youtube. If you need help you can find tons of step-by-step tutorials on how to create your youtube channel. For this guide, we really want to focus on the things that will actually make you earn money on youtube, the things that will make your channel and video content different from the others, and things that will help you get more views.
Your Website and Profile Picture
To do affiliate marketing on youtube it is not required to have a website, however, it gives you a more professional feel and somewhat more authority. Frome your website, you can drive traffic to your channel and vice-versa.
The profile picture of your channel must be a high-quality picture of yourself, headshots it's the best format.
Create your trailer video
Whenever a person lands on your channel for the first time, this is the video they will watch first. You need to be as engaging as it gets so your viewers keep clicking into your content.
We think a maximum of 3 minutes is a good length for the teaser video. During this time, focus on your unique selling proposition. Why is your channel the best and what makes your opinions more valuable, fun, unique than the others? All that is what makes your teaser video appealing.
Video organization
It is important that you organize your videos by categories, topics, or whatever you feel makes more sense to your content. If your niche is parenting, maybe you can make categories by age. Think about how would you like to find the content if you were a viewer of your channel. What makes it more convenient.
Consistency
The youtube algorithm favorises channels that consistently put out content. Set yourself a calendar. How many times will you post in a week? Make a commitment to post regularly and you will see how you will improve your content creation as you create more and more. As a professional content creator, you will be making a difference from other wannabe content creators and you will succeed.
Prepare your videos so you can be short and straight to the point. Don't you get annoyed when you find the recipe you are looking for and the YouTuber spends 3 minutes introducing their life? Engage from the beginning with your audience. Gives them the answers they need in a fast and effective way.
Think about your titles like punchlines. Make them striking, appealing, be the best title on the result page. What is going to make your viewers click? That's the title you want.
Thumbnails are the still images for the video that you see before playing them. Make these thumbnails attractive, kind of a brief of what your video is all about in a cute and striking way.
Video descriptions have to be as professional as you can. The first thing you want to do is place links or links you'd like people to visit "above the fold". These links can be your affiliate links, links to your website, social media profiles, etc. Above the fold means what people see before they need to school or tap 'see more. Your video description is a great place to go after keywords you want to rank for as well.
Ask your viewers to like, share, and comment on your videos in the middle of your video. This way they are already engaged with your content and will not leave as easily as if you asked them to do it before starting. Comments, likes, and shares measure the engagement of the public with your content and this will help you rank better.
Before you publish your video you have the opportunity to add tags. This is another way to help people find your videos organically.
CC- Closed Captions are a great way to get some keywords in there. If you don't feel like writing your text word by word, youtube actually has a tool "auto caption feature" that you can turn on when you upload the video. We suggest to better do it manually though.
Annotations: With annotations, you can put text and/or website links over your video. Annotations work well to increase engagement and Click-Through Rate. Be careful not to go overboard with them though as they can have the opposite effect.
CTA Call to action Every successful marketing campaign uses Call To Actions. It doesn't matter if the medium is TV, Radio or Social Media so Youtube is no exception. A "Call To Action" is simply telling the viewer what to do next. Normally that step is where you will make money. That's how important it is to nail your CTA.
Include Affiliate Links. During the video, you can tell your viewers to click on the links in the description however you don't need to say you will earn a commission. This image shows you how a tech affiliate marketer is inserving the links for the 3 different affiliate products in this case cameras he is reviewing in his video.
Affiliate disclosures. Adding an affiliate disclosure in the description of your channel is a good practice that will avoid inconvenience with the FTC.
You can check our dedicated article on affiliate disclosures.
Collect your commissions. If you are working with a network like lemonads, the process is very simple. You can track your performance on the platform and get paid through various mediums like PayPal, Paxum e-transfer, and others.
Conclusion
Youtube is a great channel to leverage affiliate marketing. People are constantly searching for answers, tutorials, or how-to guides where you can include amazing products and earn attractive commissions. Engage with your audience following these 20 tips and you will absolutely nail affiliate marketing on youtube.
Do you want to learn more about affiliate marketing, the latest trends, and the best affiliate programs? Don't forget to subscribe to our marketing blog. It's free!
Accelerate your Conversions, Increase your Revenue
with lemonads
---
You would like