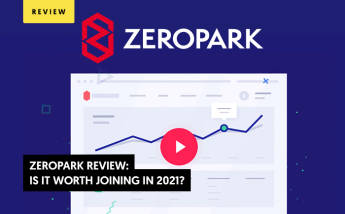 Zeropark Review: Is it worth joining in 2022?
Zeropark is one of the most well-known names in the advertising industry. The company has been around for over 10 years and during that time it has been pioneering an innovative approach and the scale of offered services.
However, with so many new advertising networks appearing on the market, is Zeropark still a good choice in 2021? Read the review below, learn about the Zeropark advertising services and decide for yourself!
What does Zeropark have to offer?
Zeropark is one of the classic ad networks with the standard set of pop, push, in-page push, and domain redirect traffic. The campaign types include RON campaign, source campaign, target campaign, as well as keyword or multi-geo campaign. They have to offer years of experience in managing campaigns and building a solid, functional platform that is convenient for both beginners and experienced affiliates. But let's get into more details about their traffic.
Full page popup traffic
Zeropark offers 53 billion monthly impressions for pop traffic. Pops which work with the CPV (cost-per-view) model are ads appearing in a new tab in a desktop browser and a new window in the case of mobile traffic. The cost of an impression starts at $0.0001. Also, in Zeropark you can target countries, regions, cities, devices, OS, OS versions, and carriers.
For the fans of e-commerce, Zeropark has a sub-type of pops, that is, injection traffic. It lets you place your ads under keywords on thematically related websites. It works especially well during the shopping season in Q4.
Huge push ads inventory
Zeropark's push ads have an available monthly volume of 400 million clicks. Push ads are delivered directly to users' devices, making them one of the most effective ad types. The available options also include web push ads and in-page push ads. You can test up to 10 creatives at once. Push ads in Zeropark work with the CPC (cost-per-click) model and the prices start at $0.005.
Domain redirect traffic with precise keyword targeting
Domain redirects at Zeropark have an available monthly volume of 1 billion impressions. This is traffic coming from users typing in incorrect or unused domain names in the address bar of a browser. This is the ad format that allows for the most precise user-targeting (keyword targeting). The cost of domain traffic starts at $0.0003 per view depending on your targeting settings.
Targeting Options
As we've mentioned before, Zeropark excels when it comes to targeting options. Each of the ad types mentioned above can be targeted not only based on geography but also on user-specific settings. Here is a full breakdown of what exactly you can do with targeting:
Targeting options for push traffic:
Countries
Regions
Cities
Languages
Device
Browser
OS
OS version
Carriers
Targeting options for full-page popup traffic:
Multi-geo
Keywords
Countries
Regions
Cities
Device
Browser
OS
OS version
Carriers
Targeting options for domain traffic:
Multi-geo
Keywords
Countries
Regions
Cities
Device
Browser
OS
OS version
Carriers
Additionally, you can gain even higher accuracy in targeting ads by using frequency filters, adult filtering, and dayparting.
Zeropark's best features
The Zeropark advertising network has a lot to offer. The experience can be pleasant to both an experienced affiliate and a beginner. If you're about to start your journey in affiliate marketing, there are many perks of joining Zeropark. Let's review some of the key aspects below.
Interface
Zeropark's user interface enables a certain level of customization. The first thing you see after logging in is your campaign's performance. All the stats are visible right on the front page and you can personalize the dashboard to show only the data you need at the moment. The campaign creation process is straightforward. Beginners, apart from the help of a personal onboarding manager, can rely on the useful tips displayed along with the campaign creation form.
Traffic Calculator
Before you set up a campaign, or even before you decide what to run, it's important to do your research. Zeropark makes that part easier with its traffic calculator. You can check the volumes and minimum bids of pop, push and domain redirect traffic combined with some particular targeting. You don't even need to have a Zeropark account to use the calculator – you can check if there's enough traffic before you sign up.
Personal onboarding managers
In Zeropark, a client who spends over $2k a month is assigned a personal account manager. However, if you have a small budget, there are plenty of resources you can use to navigate your journey. Apart from the support team, you'll have access to a personal onboarding manager. You can schedule a call or have a chat via the Zeropark messenger system and learn more about Zeropark traffic services, all the traffic they sell, campaign budget tips, and anything else you might be interested in at the beginning.
Apart from the call/chat, you'll have access to free onboarding resources, including vertical-specific starter packs, a YouTube channel, Zeropark documentation, blog, webinars, and Traffic Insights Newsletter.
Rule-Based Optimization (RBO)
One of the best features of Zeropark is Rule-Based Optimization. It's a self-optimizing algorithm that needs basic input to optimize your campaigns while you're away. If you're worried about setting it up incorrectly, Zeropark actually offers to do it for you. You just need to input the payout of your offer and a set of 3 basic rules will be created.
A rule-Based Optimization is a great option for beginners and for pros who need to manage multiple campaigns at once. These rules, among their other functions, can pause your campaign when it starts underperforming. They work for different campaigns and can make the optimization process of every campaign significantly easier.
Bot traffic filtering
Zeropark has advanced bot traffic filtering solutions. The checks are conducted both manually and automatically and the responsive compliance team makes sure that you only receive the highest quality traffic. You can learn about Zeropark's anti-ad fraud measure here.
Deals & Offers Tab
Lastly, advertisers who are actively spending money on the Zeropark platform can gain access to a Deals & Offers tab. In short, it's a collection of recommended affiliate networks, affiliate programs, trackers, spy tools, lander builders, forums, and other various affiliate marketing tools. What makes this tab special is that there is an exclusive offer for each one of those companies waiting for Zeropark clients.
The Deals & Offers section is regularly updated so that you never run out of discounts for new tools to try and bonuses for networks you'll join to keep up with seasonal trends.
What campaigns perform the best in Zeropark?
Affiliate marketers favoring the following verticals can find Zeropark's marketing services especially beneficial.
E-commerce
Downloads
Sweepstakes
As for where Zeropark traffic is coming from, it's a wide variety of countries from all over the world. You can find decent volumes of both desktop traffic and mobile traffic from smaller countries such as Haiti, Angola, or Sri Lanka and you can find overwhelming volumes of traffic from GEOs such as:
United States
India
Russian Federation
United Kingdom
Indonesia
Germany
China
Are there any downsides to Zeropark traffic?
A Zeropark review wouldn't be complete without mentioning some downsides of the platform. While Zeropark traffic can satisfy many affiliate marketers looking to scale their campaigns, it might overwhelm beginners with smaller budgets. Furthermore, the minimum deposit required to start is $200, and to get a personal account manager you need to top-up upwards of $2k.
The traffic quality is good, but as it usually happens with huge-volume traffic sources, it might take a while before your campaign optimization efforts pay off.
Additionally, Zeropark's support team, despite a good response speed, does not work 24/7. If you have questions during the weekend, they will, unfortunately, have to wait until Monday.
Is Zeropark a newbie-friendly ad network?
The Zeropark traffic source is a good choice for beginners. The onboarding manager is just as helpful as a personal account manager so you won't be left alone when opening a new advertiser account.
The affiliate marketing services provided by the team are solid and if you're coming with a particular agenda (e.g. you want to advertise a men's health product, or you're only interested in the gambling vertical) you'll receive a lot of personalized tips and resources to make buying traffic a completely transparent experience. The user-friendly interface along with useful hot tips, available campaign types, and targeting options make the platform overall suitable for beginners despite the high minimum deposit.
Case Studies
For those who want to get more familiar with Zeropark traffic services, there are plenty of case studies and detailed reports on the performance of their traffic. The case studies include their premium PPV as well as PPC traffic and describe in great detail the process that leads to achieving certain results.
Other materials shared by Zeropark on a weekly basis are guides, tutorials, and traffic insights. Regardless of your preferred traffic type, you're bound to find inspiration and resources as soon as you visit the Zeropark blog.
Conclusion
The Zeropark traffic source is one of the most established ad networks on the market. It's got everything you need to either start or scale your campaigns. The intuitive interface will provide a smooth experience so as long as you're prepared, there are high chances Zeropark will have you achieve success.
Accelerate your Conversions, Increase your Revenue
with lemonads
---
You would like