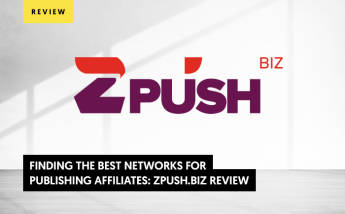 Zpush.biz Review: Finding the Best Networks for Publishing Affiliates
Affiliates that own and manage popular publishing platforms have full control over their campaigns. It's normal for these affiliates to conduct extensive research before launching a campaign. After all, these marketing experts already have a platform that they can monetize, so the right ad network will help them unlock the full potential of their publishing site.
Even if you filter out networks that serve media buyers and other types of affiliates, there are dozens of different options to choose from. Finding a network that offers all of the features you need is crucial to your success as a publisher, which can give you the resources to take on other business ventures.
At lemonads, we understand that choosing the right network to monetize your site is not always easy. We've seen thousands of affiliates successfully monetize a variety of offers, so we have a good idea of which traffic sources provide the best results for publishers.
To give you some guidance, we've put together a series of networks reviews, and for this edition, we'll focus on one of the best alternatives for publishers: Zpush.biz
Overview of Zpush.biz
Zpush.biz is a relatively new player when compared to other well-established affiliate networks, but this platform has all the traits that make a superb option. Furthermore, the platform is already a popular choice but has significantly less competition than other networks, which means that their push notifications are relatively fresh. In other words, they have a higher chance of engaging users.
Let's make one thing clear -- Zpush.biz allows both publishers and media buyers to launch campaigns, so it doesn't matter what type of affiliate wants to join its ranks. With this in mind, the platform was initially designed for affiliates that run their own site, so all of its features have been optimized for this purpose.
In addition to the above, Zpush.biz offers a superb referral program. The affiliate industry is competitive, but marketers have created a tightly-knit community that makes it easy to network with other professionals. If you have a good experience with the network, you can share your thoughts, recruit other affiliates, and get a good commission from it.
What are the Biggest Advantages of Partnering with Zpush
Even though it's a relatively new network, Zpush.biz has already developed a wide array of features that support publishers on their monetization quest.
However, the main benefit of working with Zpush.biz is that it's a flexible option suitable for all budgets as well as expertise levels. Whether you're managing a relatively small platform looking to monetize for the first time or an established website that needs a fresh method, this platform will have something for you.
The biggest advantages of  Zpush.biz include:
Large Traffic Volumes
One of the most important elements of any ad network is the traffic volume it provides. This allows publishers to gauge the platform's popularity and decide whether they should register on that network or find another alternative.
Since it was first established, Zpush.biz has been partnering with reliable publishers that help the platform attract a large number of visitors. Which, in turn, has made the Zpush a more appealing choice and allowed it to expand its list of features.
High CPC Indicators
Low CPC may be good for media buyers. But, publishers have to find a platform that has a higher CPC, which will allow them to generate more money from each interaction.
Zpush.biz has earned a reputation for providing quality traffic, which usually comes at a higher price tag. The company claims that the CPC on the platform is much higher than the industry average. And, since the platform only provides top-notch traffic, advertisers are happy to pay higher rates if the users have more chances of converting.
Global Reach
Some platforms specialize in traffic from certain tiers, but Zpush.biz accepts visitors from more than 230 countries, regions, and territories around the world. Not only this, but all platforms that adhere to international treaties and local laws are suitable for their monetization program, even for publishers that don't serve mainstream audiences.
Affiliates that run multiple platforms in different languages often have to sign up to different networks to get the most out of their traffic. Zpush.biz is paving the way for a more unified platform that allows you to learn, grow, and succeed without needing to change eventually.
Consistent Quality
Low-quality networks tend to provide great traffic for low-volume campaigns, but the quality tends to decrease as the campaigns grow bigger. This is a major problem because affiliates need to develop smaller campaigns if they want to maintain good performance, but it doesn't deliver in terms of profitability.
Zpush.biz, on the other hand, ensures that the quality of the traffic remains the same, whether you're purchasing tens, hundreds, or thousands of visitors. The platform is extremely strict when it comes to the quality of the websites it works with, which is the reason it's quickly becoming a crowd favorite for publishers and other affiliates.
Generate Profits from All Subscribed Users
One of the biggest benefits of running Zpush ads on your site is that they allow you to monetize the same users on a recurring basis.
Instead of converting once and leaving the sales to funnel, users that accept push subscriptions receive product suggestions and other marketing messages until they decide to unsubscribe. And, if your materials are good enough, it should keep your audience members happy with the notifications they receive.
Scalability
Zpush.biz focuses on maintaining traffic quality regardless of the volume, so it's one of the best places to develop campaigns with huge growth potential. It's one of the most scalable platforms, which makes it a good option for marketers that want to run big-money campaigns.
What does this mean for publishers? Simply put, it means that you can attract as many visitors as you'd like and you won't have to worry about hitting a wall of being unable to monetize your subscribers.
Frequency Cap
The average consumer already receives dozens of push notifications per day, so publishers have to be wary of the number of messages that are sent to their subscribers. Zpush.biz doesn't only allow you to see how many notifications are being sent to each subscriber, but you can also protect your traffic by setting a frequency cap.
Once the maximum number is reached, your subscribers will no longer receive notifications, which will help you keep your user base active for longer.
Customizable Opt-In Form
Every subscriber you get has to accept your request via the opt-in form. Research has demonstrated that the opt-in form itself has a huge effect on subscription rates. Luckily, Zpush.biz allows you to optimize the opt-in to help you get the best results.
In most cases, the fewer fields the better, but no one knows your traffic better than you. Just remember to run a few tests and verify that the variants you want to implement work before changing your entire campaign.
Comprehensive In-House Tracking Features
Most publishers choose a third-party tracker to help them monitor their campaigns. While this is a good practice that can benefit marketers in almost any scenario, Zpush.biz also offers powerful in-house tracking features that give you valuable insights into the performance of your traffic.
You'll be able to see important metrics including ROI, CPC, and other key statistics that will help you find new formats and make better decisions.
Innovative Ad Blocker Circumvention Capacities
Ad blockers have become a major problem for publishers and basically all other stakeholders in the affiliate world. This is where Zpush.biz has made the biggest effort to stand out from the competition. Instead of simply acknowledging the problem, the ad network has dedicated a large number of resources to find a solution to this problem.
The result is a robust ab blocker circumvention that allows your ads to bypass a large percentage of filters. In other words, you'll have fewer ads blocked and generate more money from the same number of users.
World-Class Support
Even the most experienced publishers run into a brick wall now and again, so Zpush has created a team of world-class customer support experts. Publishers can rely on the support team to get answers to general questions, assistance with any technical difficulties, and walkthroughs whenever necessary.
Ultra-Fast Payouts
Finally, payouts are processed 24 hours after being requested, which is one of the fastest turnarounds among all ad networks. Not only this, Zpush.biz can allow you to withdraw funds through various means including Paypal, so it's a great alternative for publishers around the world. And, the best part is that the minimum request starts at $10, so you'll never leave any money on the table.
Publishers vs. Advertisers: Pros and Cons for Each
As we mentioned before, Zpush.biz is a super choice for both publishers and media buyers, but it's also a solid option for advertisers.
Below, we'll go over some of the pros and cons for both advertisers and publishers.
For Publishers
The pros and cons for publishers include:
Pros
High CPC rates
High volumes of quality traffic
Global reach
Flexible withdrawals
Robust tracking features
Great support team
Cons
Not as well-known as other platforms
For Advertisers
Some of the pros and cons for advertisers working with Zpush.biz include:
Pros
Great quality traffic
Engaged users
Suitable for all verticals
Effective push notifications that convert
Cons
Specialized in push ads only
Higher than average CPC
Learn More About the Best Ad Networks for Publishers
Finding the ideal publishing platform can be the key to boosting your monetization efforts. Zpush.biz has earned a reputation for quality traffic and a robust set of features, making it one of the recommended networks on our list.
To learn more about the best options you have available, stay tuned to our blog or contact us today and our team will be glad to help.
Accelerate your Conversions, Increase your Revenue
with lemonads
---
You would like